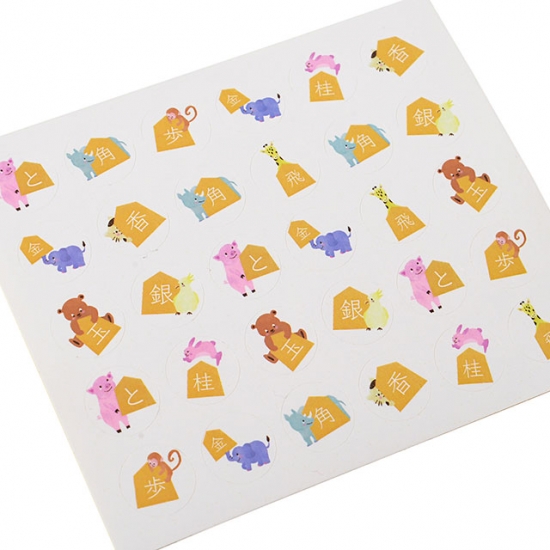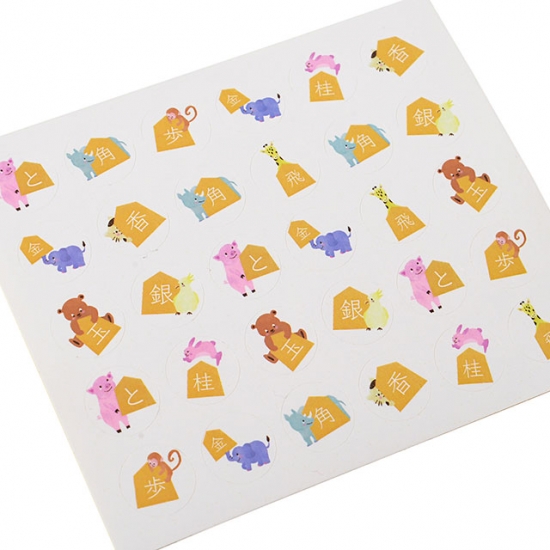 SOLD OUT
[SOLD OUT]Shogi Stickers for Sticker Chart
200 (JPY)
Product Description
Our Shogi stickers for sticker chart are specialized for a series of Introductory Shogi Textbooks, "Shogi Lesson Book for Beginners".
Each textbook is composed of explanation pages and question pages for 30 days. Based on this composition, we prepared one sheet of 30 stickers printed with a combination of a Shogi piece and a cute animal.
When children finish a daily assignment, give them one sticker or put it on the chart page in the textbook.
* The stickers, surely, can be used for another purpose.
Sticker is a magical and great tool to encourage children to keep their motivations.
You may have happy memories in your childhood, associated with stickers. Your children also love stickers. Let's treat them to one sticker with saying "Well done!", after they enjoy finishing their daily assignment.
"Shogi Lesson Book for Beginners"
"Shogi Lesson Book for Beginners" is a textbook for Shogi beginners designed and invented by Ms. Akiko Nakakura, a ladies professional Shogi player. Ms. Nakakura made this book with an aim to make it possible that children who have no experience in Shogi can learn Shogi effortlessly and in a fun way. This textbook takes a step by step approach in which a daily small step is made by one 15-min lesson. A series of "Shogi Lesson Book for Beginners" consists of five volumes, and currently Vol. 1, Vol. 2, and Vol. 3 are available at our online shop.
Spec
| | |
| --- | --- |
| Number of stickers | 30 stickers on one sheet |
| Weight | 10g |