Shogi 2 July 2020
The Method of Battle in the Mid-game: #2 Dangling Fu (Pawn)
Hello, everyone. My name is Takashi Araki, and I am an instructor of i-tsu-tsu Shogi class, Kobe Motomachi.

This is the second article of the "Ni Course" blog! Last time I showed you a technique to advance Gin (Silver) using a technique of opposing Fu (Pawn)!

In Shogi, there are many useful techniques that you should know, and these are collectively called Tesuji in Shogi terms.
In fact, the theme of the course is to learn a lot of these Tesuji. So, let me introduce some new Tesuji.
The most powerful technique to add your allies.
As I mentioned in the last article, after the piece formation is in place, the basic idea is to move the offensive Gin (Silver) forward as fast as possible. However, I think sometimes you will have situations where just Gin (Silver) can't get going.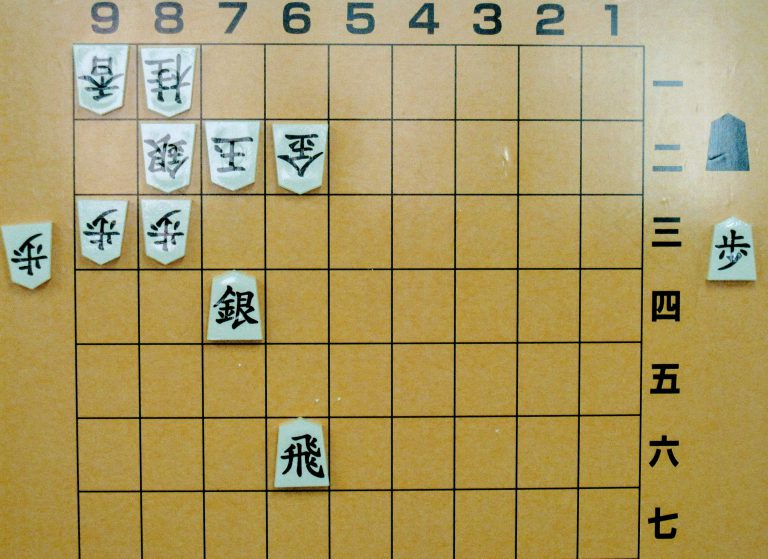 You aim at advancing Gin (Silver) on the square of 7d to break through the enemy camp, but the opponent's defense is strong and not easy. For example, if you move the Gin (Silver) to the square of 6c and promote it, ▲S-6c+, the promoted Gin (Silver) will be captured by Kin (Gold), △Sx6c.
The trick to advance Gin (Silver) is to use a "opposing Fu (Pawn)", but I don't see where it would be. Dropping Fu (Pawn), ▲ P-6c, won't be followed by another effective move.
With silver advancing so close to enemy camp, why does the offense not work in this phase of the game? That's because you don't have enough offensive pieces on your side.

You and your opponent have the same number of pieces that can reach the square of 6c, so simple attack doesn't work well.

Therefore, you need to increase your pieces to support others. Moving Fu (Pawn) to the square of 6d, ▲P-6d, is ideal.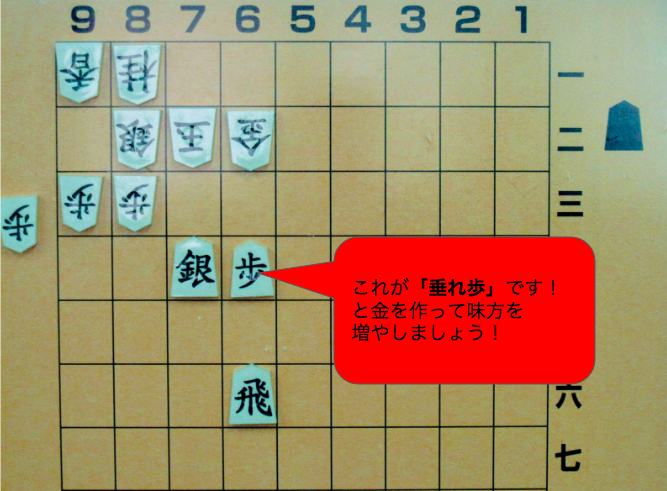 Regardless of how your opponent responds, you can make To-Kin (Promoted Pawn) as ▲P-6c+. This time with the arrival of new supporter, To-Kin (Promoted Pawn), you were able to break through the enemy camp!
This technique, which increases the number of your allies by making To-Kin (Promoted Pawn), is called dangling Fu (Pawn). If you can use this Tesuji well enough, it's possible for you to compensate for the lack of strength and to gain pieces. It's a very handy Tesuji!
However, if you dangle Fu (Pawn) in the wrong place, it can end up being a waste of the piece. My students seem to have some difficulties to nail down a suitable place to dangle Fu (Pawn). Nevertheless, as mentioned above, the technique of dangling Fu (Pawn) is very effective for attacking. I hope you will learn it well to use it. I think this is a matter of how a teacher instructs students, or a kind of test of an instructor's ability.
*By popular demand, we will offer an additional Kobe Motomachi Class, "First Time Shogi Class", only during the summer (from July to September).

If you are interested, click here. (Please note that this information is in Japanese only.)