Explore art of Shogi. A professional Shogi player invites you to the world of Shogi along with traditional Japanese culture.
"Shogi Rules – How to Play Shogi –" is available on the blog of I-tsu-tsu Co., Ltd.
The previous step

Even a novice player will be able to play a standard Shogi. There are three steps and one step has approximately 20 lessons.  You will be able to play Mini Shogi in Step 1, and it is full of fun!
Step 1-9 "Tsumi (Checkmate)"
In the previous step, we learnt how to defense Oute. So, today, we will learn "Tsumi."
Tsumi is a situation where Gyoku (King) is under check and has no way to escape. You lose when your Gyoku (King) is captured.  Tsumi means the end of the game.
Let's look at Tsumi situations.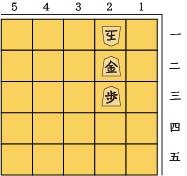 Let's think about possible solutions as learnt in Step 1-8.  Can your Gyoku (King) either escape or capture the attacking piece under the situation of the above picture?
If your Gyoku (King) cannot escape to anywhere or capture the checking piece, then, it is a situation of Tsumi.
1. Escape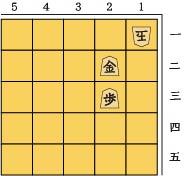 Your Gyoku (King) will be captured even it escapes to this position (file 1 and rank 1).
2. Capture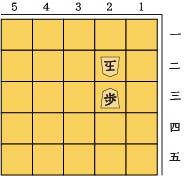 Although you capture the checking piece, the Fu (Pawn) will capture your Gyoku (King).  So, this is a Tsumi situation.
The following is also Tsumi situation with Gin (Silver).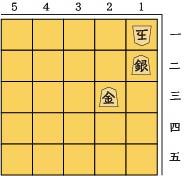 The point of Tsumi is you need more than two pieces.  You need a checking piece and a supporting piece for Tsumi.  Please think about many patterns of Tsumi.
Comments from girls' mom
You need more than two pieces for Tsumi.  Considering that, I think Shogi is such a profound game.
Each of Shogi pieces has a unique feature, and these pieces cooperate for one goal; Capture the opponent's Gyoku (King).  The above sounds just like team sports such as football or basketball.  Individual player' skills are important but are not good enough to win.  You need to tactfully blend in the players' features to win.
My girls still have so much to learn, but it must be fun if they could move the Shogi pieces as they wish just like a skilled coach gives directions to players.
The next step