In this post, I am going to tell you about the way to refine children's sensitivities. We often hear that it is essential to cultivate children's sensitivities from early childhood. I understand sensitivity is very important fundamental to display one's various abilities. Supposedly, enriching our power of perception with deep sensitivities, as a result we could think and imagine things more deeply.
"Sensitivity" would be developed not in adult schools but rather in daily activities, if we try to be more conscious about the way we do. The other day, it rained, so my children couldn't enjoy the outdoors. We involuntarily held an Origami-party in the house.
As you know, Origami is one of traditional Japanese toys; you can make objects, such as animals, flowers and dolls, with holding a square piece of paper without glue or scissors.
That day, I noticed Origami was just what could play an important role for children's emotional development. What I am realizing is that the simplicity of Japanese traditional toys actively encourages children to cultivate their sensitivities.
I will post five keys for child's emotional development with Japanese traditional toys. Title: Origami to refine children's sensitivities on a rainy day.
1. It's Simplicity: Good to Stir Your Imagination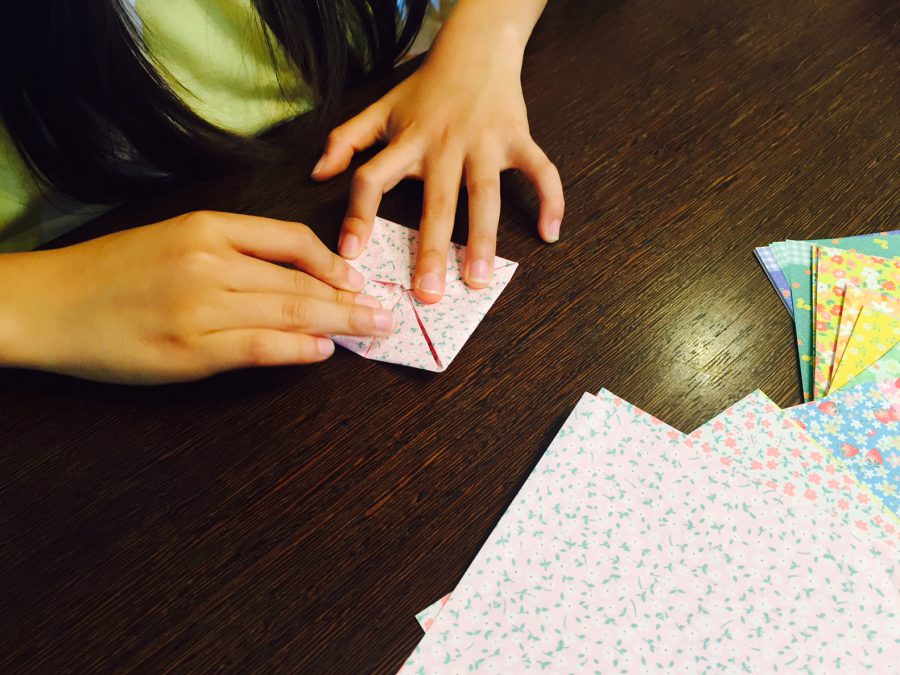 I think the good points of Japanese traditional toys come from the simplicity of their materials. A square piece of paper is only material for Origami. Holding the paper to make triangle shape, then diamond shape, and then you will have a three-dimensional paper object. There are several Origami instructions on the web; Please take a peek at them later and pick out your favorite one! It is just wonderful to stimulate child's imagination with a simple toy.
What surprised me was that at first, my daughters followed an instruction book to enjoy Origami, but later they invented their own methods and created a bunch of paper-something I had never seen. Children looked to be more concentrated while they were creating things without instructions.
2. Making the Fullest Possible Use of Children's Five Senses
In order to have deep sensitivity, it is crucial to make the most use of children's five senses. I prepared colorful paper including flower-pattern and Japanese-pattern adding to ordinal Origami-paper which has a colored face and the white flip side respectively. I tried to stimulate children's visual abilities with some words: "Which pattern do you like the best?" "Why, so?" and "Which pattern is good for a present for Dad?" Regardless of the level of my questions, children gave me amazing answers. Also, they mentioned the difference of feelings to the touch and outcomes affected by the quality of paper. Children have astonishing abilities to respond to little words.
3. Great! Books of Origami Instruction
Someone who is awkward (Yes, I am someone!) needs to have an Origami picture book. You may wonder if providing the instruction could disturb child's emotional development. I would say Origami books are quite handy from the perspective of emotional development.
First of all, the pictures of works are just beautiful and attractive. They are beautiful enough to motivate us to make Origami things. Instruction books will give you basic knowledge and skills to make something Origami. Once you get basic skills to enjoy it, then you will be able to expand the knowledge and create your own unique objects.
4. Making Practical Things to Exert Creativity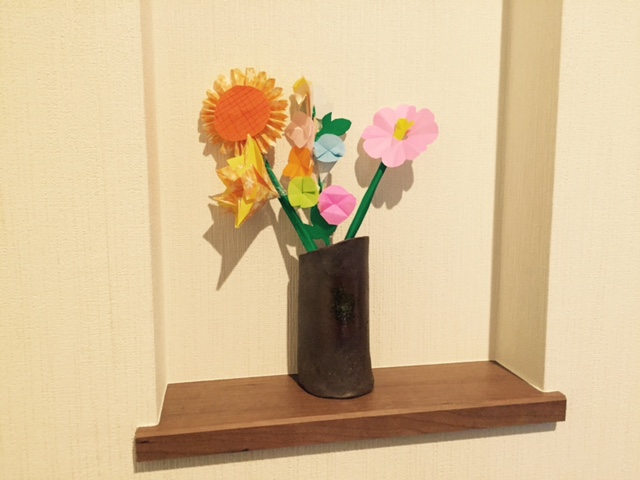 After all, making something practical, say daily products, seems to be a cue of using one's brain. I asked my daughters to make flowers for the entrance of our house and a box to keep clips. They made wonderful works by various means, which were not only aesthetically pleasing but also functional. Given some conditions from me, they tried to manage to satisfy my requests. As it were, this is what we can observe in the job of craft making. It is said that the center of craft making is empathizing with end-user needs. Origami may also help to cultivate children's abilities to empathize with others.
5. Teamwork Will Expand the Child's World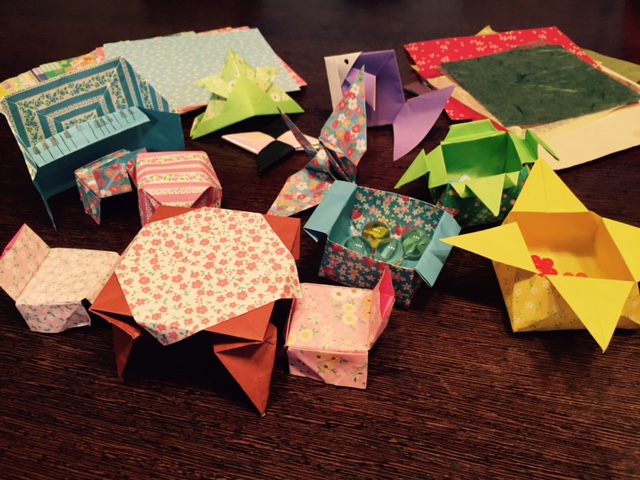 My daughters enjoyed making Origami individually at first, and then halfway through the play they began to work together. One made a table, while the other made chairs. They had a blast making objects together: a piano and a piano chair, a house for dwarfs, and so on. Children are stimulated by each other through teamwork. One came up with a good idea, so, not to be outdone, the other showed off her idea. Nobody became a winner on this competition, however two of them became more creative, competing their ideas. As Kansai-jin (people who live in Kansai region), they changed their theme of competition to a battle to decide who is a better comedian. Ideally, we are happier when we have somebody to play with!
Origami: Japanese traditional toys, I really appreciated the tranquil time to make Origami with my beloved daughters, listening to the sound of rain. I believe simple Japanese traditional toys will bring my daughters and me another spiritually rich time on the not good days for the outdoors.